Managing Committee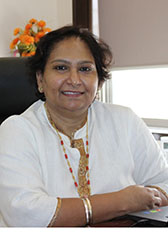 Mrs. MARGARET LOBO
EXECUTIVE DIRECTOR
She has been associated with Evershine Builders Pvt Ltd since June 1992. She took over the Education Management of the School in 1998. She is a M.A,B.Ed and also holds a Post Graduate Diploma in Education Management from Symbiosis,Pune, and a Post Graduation in General Management from IIM Lucknow. A warm and energetic person, she shows her expertise not only in giving shape and foundation to beautiful buildings, but she also works diligently towards laying the foundation of a promising future to the students, through quality education involving Technology and Innovative Teaching Methods. She gives the Institute a touch of Warmth, which helps to build the capabilities and multiple talents of not only the staff but also the students. She always says "Nothing can be achieved without a will to do so, Focus on your potentials instead and not on your limitation, learn to extract the priceless from the worthless". Her Motto in Life is Action, and she believes that: Every accomplishment starts with a decision to try and excel. Her role here has been Dynamic, her focus now is to investigate and introduce innovative teaching strategies to the excellent Qualified Team of Principals and Teachers.
---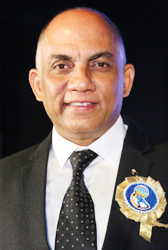 Mr. ANAND LOBO
CHIEF EXECUTIVE OFFICER
A Post Graduate in Marketing Management from the Jamnalal Bajaj Institute of Management Studies - Mumbai, he has a total of 32 years of experience, in the fields of Accountancy, Sales and Education Management. A skilled conversationalist and a fountain head of innovative ideas, he motivates and challenges the Team to go the extra mile, and see the difference for themselves. His Workshops and Training Seminars are focused on developing the soft skills and helping them to be better Manager-Teacher in the classroom. The Senior Students are advised to plan for their future studies with an open mind and seek out a future enriched with the Values and blessings of their Parents and Teachers. Blessed with tremendous interpersonal skills and extreme sensitivity to people needs, he is a natural motivator. He believes that Life is incomplete without continuous Self Development and a Desire to Excel. His exposure and experience in Corporate Training especially in the areas of Leadership, Soft Skills and Team Building adds a new dimension to the Learning & Development department of the school. Students, Parents and teachers are always eager to be a part of his motivating workshops.
---
MRS. PUSHPA PATEL
HEAD MISTRESS
Mrs. Pushpa Patel embodies a spirit of Cooperation and Team effort. Her varied teaching experience expands over 22 years. She is a graduate of Commerce from Mumbai University. She has done her B.Ed. and Masters in Sociology from SNDT University. Her subject of Specialization is English. She plays a major role in designing the extra-curricular activities of the institution and has a keen eye for detail and executes them effectively. Her main objective is to support students, teachers, to acquire academic confidence that will benefit the scholars throughout their educational process. She believes in the potential of every child and challenges them to dig deep and explore themselves. Her aim is not just to impart knowledge to the students, but also to inculcate - wisdom, compassion and a humanitarian spirit in them. She is passionate about her role as an Educator. She instils creative thinking and love for learning among the students and staff. She is committed towards building professional relationship that does not end once the student or teacher leaves the school but she continues to be a mentor and guide lifelong. With the help of "SCHOLASTIC INDIA's Intensive Reading Workshop, her goal for this academic session is to encourage each student of JBL to speak English Fluently. It is her strong belief that "We are a school with a difference! We value individualism, creativity and innovation and strive to nurture them in our students"
---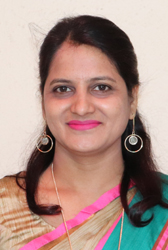 Mrs. SNEHAL GONSALVES
SUPERVISOR
Mrs. Snehal Gonsalves has a deep sense of understanding of the needs and requirements of her team members and the Students and she is always available for counselling and guidance to all. She is associated with this Institution for the last 10 years and is instrumental in influencing students and Teachers to rise up to their potential and give their best. She believes that students are to be understood, loved and nurtured with care. And she is someone who leads by example. Her favorite quote is: A teacher affects eternity, one can never tell where her influence stops.