Managing Committee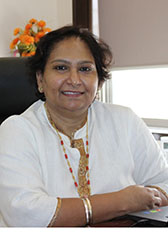 Mrs. MARGARET LOBO
EXECUTIVE DIRECTOR
She has been associated with Evershine Builders Pvt Ltd since June 1992. She took over the Education Management of the School in 1998. She is a M.A, B.Ed and also holds a Post Graduate Diploma in Education Management from Symbiosis,Pune, and a Post Graduation in General Management from IIM Lucknow. A warm and energetic person, she shows her expertise not only in giving shape and foundation to beautiful buildings, but she also works diligently towards laying the foundation of a promising future to the students, through quality education involving Technology and Innovative Teaching Methods. She gives the Institute a touch of Warmth, which helps to build the capabilities and multiple talents of not only the staff but also the students. She always says "Nothing can be achieved without a will to do so, Focus on your potentials instead and not on your limitation, learn to extract the priceless from the worthless". Her Motto in Life is Action, and she believes that: Every accomplishment starts with a decision to try and excel. Her role here has been Dynamic, her focus now is to investigate and introduce innovative teaching strategies to the excellent Qualified Team of Principals and Teachers.
---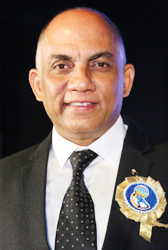 Mr. ANAND LOBO
CHIEF EXECUTIVE OFFICER
A Post Graduate in Marketing Management from the Jamnalal Bajaj Institute of Management Studies - Mumbai, he has a total of 32 years of experience, in the fields of Accountancy, Sales and Education Management. A skilled conversationalist and a fountain head of innovative ideas, he motivates and challenges the Team to go the extra mile, and see the difference for themselves. His Workshops and Training Seminars are focused on developing the soft skills and helping them to be better Manager-Teacher in the classroom. The Senior Students are advised to plan for their future studies with an open mind and seek out a future enriched with the Values and blessings of their Parents and Teachers. Blessed with tremendous interpersonal skills and extreme sensitivity to people needs, he is a natural motivator. He believes that Life is incomplete without continuous Self Development and a Desire to Excel. His exposure and experience in Corporate Training especially in the areas of Leadership, Soft Skills and Team Building adds a new dimension to the Learning & Development department of the school. Students, Parents and teachers are always eager to be a part of his motivating workshops.
---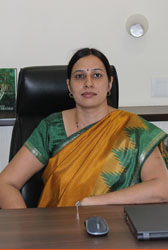 Dr. Dabas is associated with our Institutions since January 2011. She was the HOD for Social Studies at both the Schools. She is an avid reader and Geography is her favorite subject. She has done her doctored thesis in Transport Network and Socio-Economic Development from the University of Haryana. She is a disciplinarian and a perfectionist in her work & commands the best, of her team of teacher and student. She has a pragmatic approach toward the student and believes in INSPIRED LEARNING. She is into this noble profession as she has a strong desire to impact the future generations by sensitizing, motivating and encouraging the students.
---